Know where to eat a classic French style sandwich (Croque Madame)
Offered by: Margot Patisserie Bakery Cafe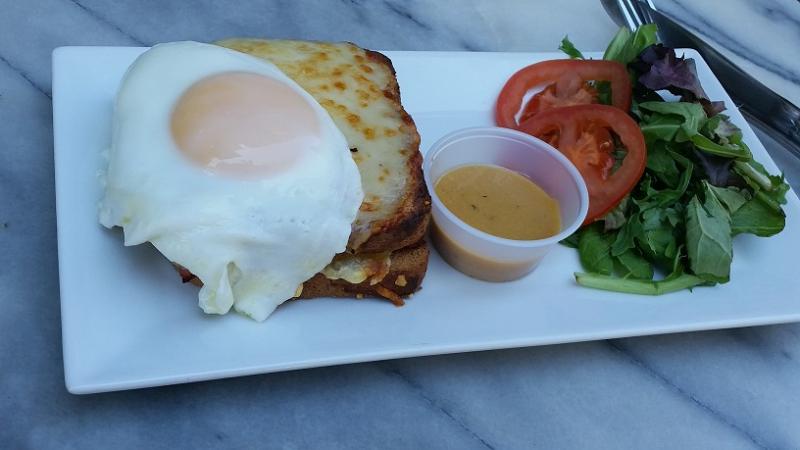 Get A Free Estimate
---
Service: Meals
Category: Restaurants, Other
State: New York
Cities: New York
Details:
French style bakery: Croissant, almond croissant, coconut croissant, chocolate croissant, apple turnover, apple danish, raisin danish, apricot danish, blueberry muffin, cranberry muffin, raisin bran muffin, corn muffin, banana nuts muffins, blueberry scone, cranberry scone, choc chip scone, variety of cookies,
French style cafe brunch: Hass avocado toast, salmon toast, croque madame, mac & cheese gratin, Ham, egg and cheese platter, bacon, egg and cheese platter
French style tea time cake and pastries: Napoleon, french macarons, eclairs, lemon tarts, opera, strawberry shortcake, choc mousse, flourless choc cake, creme brulee, cheese cake, mocha, lemon berries, choc ganache
French style soup: split peas, french lentil, carrot and potato, spinach & beans, mixed vegetables, moroccan tomatoe, minestrone, sweet pea and mint
Espresso based drinks: cappuccino, cafe latte, cafe au lait, macchiato,
Smoothies: Almond banana kale, strawberry banana, mango, mixed berries
Frappuccino: toffee coffee, mocha glacier, chai
wine: pinot grigio, pinot noir, mimosa, bellini, merlot,
French style baguette sandwiches: Tuna salad, ham & swiss cheese, baked chicken, turkey avocado, brie & tomato, saucisson
French style sandwiches: Pan bagat, turkey pesto focaccia, ham & cheese croissant
Salad: salad nicoise, chicken parisenne, fuji apple chicken, chicken ceasar, cranberry walnut & gorgonzola
Quiches: mixed vegetable, ham & cheese, goat cheese tomato
coffee, tea
Margot Patisserie Bakery Cafe - A French Style Cafe in New York City

Located on the Upper West Side of New York City, Margot Patisserie bakery and café is the hidden gem known for its French artisanal style pastries and cafe menu for locals and tourists. (-Zagat-)

Margot Patisserie opened in May 1994 and is located in the famous Ansonia building known for its French Beaux Arts architectural style, on the upper west side of New York City.

Margot Patisserie's interior has a western European feel, a blended of Paris and New York. Soothing ambience for sure. A perfect place to enjoy breakfast, lunch, meet up with friends for a nice afternoon catch-up or wine down from the hustle and bustle of the city.

Our products are heavily influenced by the Southern French cooking with unique recipes and techniques that are passed down to our bakers/chefs here at Margot. Our team continues to innovate and come up with creative recipes of their own that are exciting to any palate. Whether you are in the mood for something sweet or something savory, Margot has it for you. Bring a friend and visit us today! We look forward to seeing you here.

Offered by: